Sant Pau the Modernist Hospital
THE LARGEST ART-NOUVEAU HOSPITAL IN THE WORLD
THE LARGEST ART-NOUVEAU HOSPITAL
In the amazing district Eixample, we find a modernist hospital designed by a competitor of the arquitect Antoni Gaudí, he was an other genius of the Catalan art nouveau, called Domènec i Muntaner.
Only 10 minutes away by foot from Sagrada Familia we find this jewel of modernism. Discover the mosaics and sculptures decorating the hospital.
We will learn about how was a hospital 100 years ago, and we will walk through the beautiful garden and internal corridors.
Come and give your eyes a dose of beauty!
Do you want to discover the following mysteries?
-How important was the hospital for the city?
-Why the location so far away from the Gothic Quarter?
-Who was the main arquitect?
-Who paid for it?
-How was the operation room and other areas of the hospital?
-What materials where used in the construction?
-Is the hospital still working after more than 100 years?
These and many other questions will be resolved in the tour!
From Sant Pau we have an amazing view of the complex with the gardens and pavilions and the Sagrada Família as well
Type of tour: Semi private walking tour (maximum 12 ppl per mixed group in case last minute people sign up) or private tour only for your party (send us a special request with enough time in advance)
Duration: 1.5h
Included: Guided tour with official guide and tickets. Radio guides if necessary
Meeting Point: In front of the monumental area. Hospital Sant Pau (art-nouveau area). Main gate (Hospital de Sant Pau, recinte modernista).
*Wear comfortable footwear
*OPTIONAL: SAGRADA FAMILIA+SANT PAU HOSPITAL
We are 10 minutes away by foot from Sagrada Familia, Join the 2 fantastic tours and enjoy twice!
Important information:
*For reservations in less than 48h, please use What's App
*Payment methods: Credit card via our website (American Express is accepted), *Bank Transfer (contact us), *Bizum (contact us) or *Cash (contact us)
*50% of total cost is needed in advance to complete a reservation
*Prices appear without VAT
FROM 22€ per person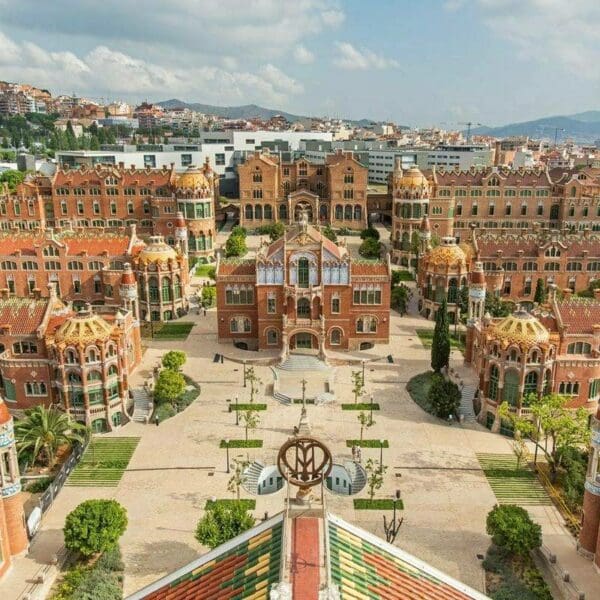 DAY TRIP GIRONA EXPERIENCE
No-one knows Barcelona and Catalonia better than the professional, trained and official tourist guides of Catalonia. Discover with the best Official Guides the main sights of the city during 4 hours with private transport and ticktes included